Who can describe us better than customers?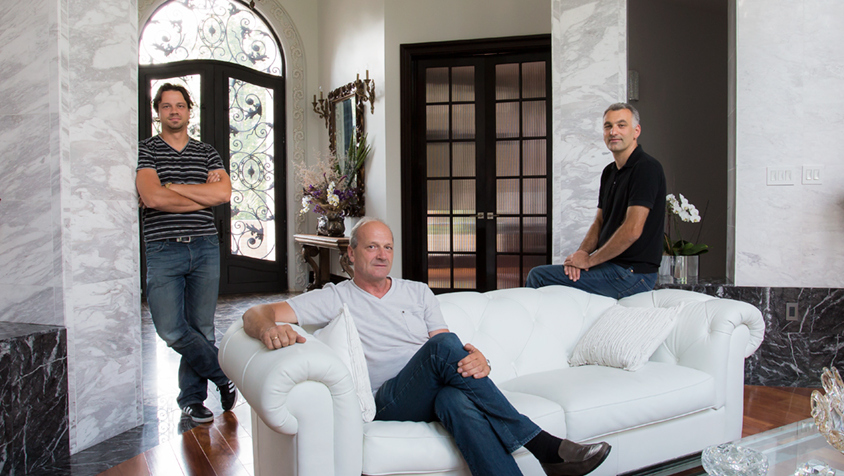 We just finished building our home with VMAX LLC and words cannot describe how glad we are that we chose VMAX to build our dream home. Our new home, which was completely customized to our taste,has met and exceeded our expectations in quality, craftsmanship, attention to detail and practicality yet elegance of its design. Not only that, our construction process experience that people often hear so many horror stories about was a pleasure and not stressful. VMAX team is highly professional, knowledgeable and talented in many ways. They attend to every single detail, big or small, like it is the most important project of their career. They supervise every step of the way to make sure that absolute top quality has been achieved and their customer is getting exactly what they desire and more. We cannot be happier with our new home and if we had a chance to start the process all over again we would have chosen VMAX LLC in a heartbeat. They are a gem of a builder and we highly recommend VMAX LLC without reservation.
I write this review in recommendation of VMAX and especially the owners of the company Max and Vitas. My husband and I hired VMAX as our general contractor to build our house in 2010. We highly Recommend them without reservation. Throughout the six months building process, both Max and Vitas were professional, thoughtful, flexible and eager to please and meet our needs. It was important to us to stay close to our budget and we were pleased that the initial assessment of the scale and cost of our project was accurate. Our builder was absolutely clear and transparent in their project planning, record keeping and chose highly skilled and trustworthy contractors, whom they managed flawlessly. Another benefit to using VMAX is that Max and Vitas stay on top of industry trends by participating in builder conventions and shows. As a result they are extremely creative and were able to bring a lot of innovative and original ideas to our house. They also brought in a gifted wood and trim crafter for our custom cabinetry and trim, and he was able to work magic! Overall the detail, design and execution were done with precision and excellence! VMAX takes pride in planning, design and execution, but yet are very attentive to the customers' needs. What differentiates VMAX from other builders above all is the drive for perfection, attention they dedicate to customers needs and flexibility. Although building a house can sometimes get difficult, for us it was only due to our busy schedules with our jobs and kids, VMAX did everything in their power to deliver a brilliant house with everything we have ever wanted. My husband and I would highly recommend VMAX to anyone considering building a house, remodeling or any other renovation work. P.S. In addition to being wonderful in many ways, they are extremely clean and tidy in the workplace which helps during any construction job!
VMAX team made our dream house come true. From the big picture (choosing the house plans) to the smallest detail: they have followed through on everything with high professionalism, transparency, and diligence. They have partnered with us not only on the construction side, but also on the house style and decoration side. From the color scheme, to arch shapes, to the choice of materials; from the kitchen layout, to the light fixtures, to the granite choice: they have walked with us side by side … advising, creating, keeping the style and the décor of our new home consistent and intact. They knew what we wanted … sometimes even before we did. It was a great project fueled by VMAX team's extensive and diverse experience and fun personalities.
Max made our dream bathrooms come true. While we received quotes from other designer/contractors, we were repeatedly told that certain things we wanted "can't be done". When we asked Max, he just said "why not"? Max has a keen sense of style and made several suggestions that improved the overall project. He was also able to save us money by suggesting alternate vendors (even Amazon). Max and his crew of skilled craftsmen who came into our home, did their best to minimize the mess and disruption. They were able to surpass our expectations at every turn. They were a joy to work with throughout the project. In fact, they found structural and plumbing issues with our 1950's vintage home and resolved them correctly. They repeatedly did the "little extras" that really made a difference in the long run. We have completed several major renovations on our home over the years, and this was by far our best experience with a contractor in the Richmond area. We would not hesitate to recommend Max to anyone looking to build or renovate. He is the best.
Hired this company for several home improvement projects: roof replacement, vinyl siding, hardwood floors installation. The last project was bathroom remodeling. Very happy with the results: I provided the photo of what I had in mind and got personal attention and help choosing the materials needed. The project was completed timely. People there are knowledgeable and friendly. I mostly worked with Max who is very responsive and has a good sense of style. Would recommend this company to anyone.
I highly recommend VMax, LLC for any construction project; whether it is building a home or doing a remodeling project. They are very knowledgeable of the construction business. They have good ideas but are very willing to listen to your thoughts. They are dependable; and meet their deadlines. You can rely on receiving an honest estimate. Their cost are reasonable; budgets are met and if there are changes they will discuss with you first - nothing is unknown. Their sub-contractors are professional and respectful.